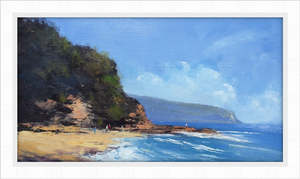 Along The Rocks
AUCTION HAS ENDED
End date: 02-20-2022 - 07:00:00 PM
Winning bid: $220.00 (6 bids)
"Along The Rocks"
10" x 18"
Oil on Board 
Framed & Ready To Hang
As a kid I used to love exploring the coast around Torquay and Great Ocean Road. Particularly headlands and rocky shelves. I guess it's only natural I am drawn to paint them.
Regular price is $670 AUD. Auction price includes free shipping in Australia.
Please allow 2 to 3 weeks after payment for shipping due to framing time.