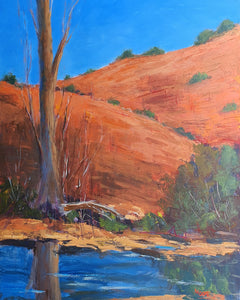 Mixed Media on canvas, stretched and ready to hang.
Signed on the front.
"Riverbeds & Roots"
Acrylic & Oil Pastel on Canvas Ready To Hang
This work is the centre piece of a new series on erosion, climate change and its impact on our landscape. Recently the world watched on as Australia burnt. Many say this was a direct result of climate change. This piece depicts the effects of a lack of rain in our waterways, and erosion of the soil leading to exposed tree roots in our riverbeds.
Riverbed & Roots was recently exhibited in a group show at the Cooroy Butter Factory Arts Gallery